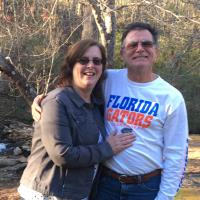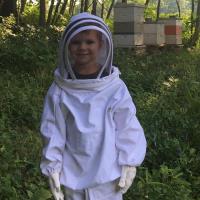 Kuhndog Ridge Farm
Contact: Jack & Leigh Kuhn
Address: 248 Sulphur Lick Road Frankfort, KY, 40601
Email Address: Kuhndogridgefarm@kuhndog.net
Phone: 502-545-6566
About Us
Welcome to Kuhndog Ridge Farm – Your local Kentucky Beekeeper. We are a mom and pop proprietorship located in beautiful Peaks Mill, Kentucky. Our honey operation is certified by the Kentucky State Beekeepers Association as 100 percent Kentucky-produced products. We own and manage our own apiaries, currently located in Franklin, Shelby, Harrison, and Morgan Counties, Kentucky.

All our honey is pure, raw honey, never pressure filtered or super-heated as most commercial honeys. And because of that, the honey will eventually crystallize, sometimes in a month, sometimes not for a few years. It all depends on the mix of complex sugars in the nectar the bees have collected. The pictures we use of the honey jars is a pretty close depiction of what we are offering online at that time. Color is indication of the nectar and not necessary taste although lighter honeys are generally milder and darker honeys have a more robust taste. Come to the farmers market on Saturdays for a tasting of our current honey offerings.

Practices
We maintain seven small apiaries that have two to 10 hives at any time. We micro-harvest all our honey, meaning we harvest two to four times a year from each apiary. We keep each harvest and each apiary honey separate because each has a unique taste. That's about 16 to 24+batches per year. That's why when you see us at the farmers market, we always encourage you to taste the honey – taste the difference of the season.

Crystallized honey is not bad. Eat it as is or place the jar in a pan of hot water. Never heat a plastic bottle in the microwave, it will melt and the hot spots can ruin the flavor and health benefits of the honey. During warmer months, leave the honey in your car for the day. Better yet, don't let it sit in the cupboard, eat it it up; it's good and good for you, too!

Our honey is backed by a 100-percent satisfaction guarantee. Just return the unused portion for a refund or exchange.