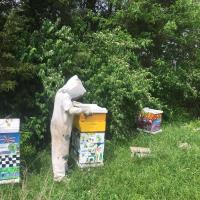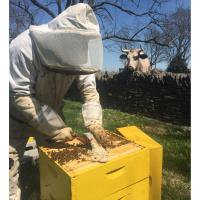 LazyDog LLC
Address: 2740 Shadrick Frry Rd Frankfort, KY, 40601
Email Address: jantenucci@mac.com
Phone: 502-320-6577
About Us
All raw.
All natural.
All Local.
Small Batch.
Hand Crafted.

Though the dog may be lazy, the bees stay very busy and produce a high quality honey.
The bees forage from bee yards dispersed throughout Central Kentucky, surrounding the state capital, Frankfort. The location of each bee yard relative to woodland, cropland, open meadows, the Kentucky River and its bottom lands, as well as rural development,, produce an array of very local honey.

LazyDog is primarily a honey producer, and its operators, John Antenucci and Janet Osborn are involved in managing as many as 100 hives during the production season. Many of these are owned by LazyDog, though the apiaries are located on farms and properties owned by others. In some instances, LazyDog manages hives and production on behalf of others who own the colonies. Additionally, LazyDog provides mentoring and support to new beekeepers and those who require assistance in dealing with the issues confronting rebuilding a sustainable pollinator population in Kentucky.

Practices
Beyond mechanically filtering the harvest, we let the bees do the work.

To help maintain the survival of the hives, we give the bees supplemental feed throughout the winter months and the typical summer and fall droughts. Honey supers are removed during these periods. Once natural pollen and nectar sources appear, we stop feeding and place honey supers on the hives. This practice ensures that only natural honey reaches the comb we harvest from the late spring, summer and early fall honey flows.

We attempt to select locations for the various apiaries keeping in mind the subtle differences in geography, water sources and, most importantly, the flora available to the bees. Each of these variables contribute to the distinct flavors, colors and aromas of our finished product, whether blended or not.

The final product is theirs: raw, wild and local.