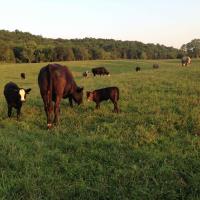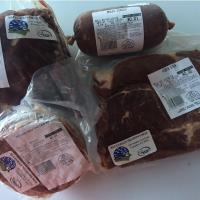 Mefford Family Farms, Inc.
Address: 546 Sulphur Lick Rd Frankfort, KY, 40601
Email Address: Meffhogan@yahoo.com
Phone: 502-227-9855
About Us
Bluegrass Meadows Beef

In the mid 1990's, my brother, Ivan Mefford, visited the Houston Livestock Show in Houston, Texas, and saw Belgian Blue cattle for the first time. He was so impressed that he managed to convince the family here in Kentucky to start raising them. We became Mefford Family Farms, Inc., and began raising and showing registered, full-blood Belgian Blue cattle. By 1999, we were also raising crossbred Belgian Blues (much more affordable) to market beef under the name Bluegrass Meadows Beef. In 2001, we obtained necessary permits to begin selling our beef at the Franklin County Farmers Market, and my Mom, Bettie Mefford, began selling our lean beef at the Farmers Market in 2002. When the Kentucky Proud program became operational, we became part of that program, marketing our beef under the Kentucky Proud label. Several years ago, we began offering our beef to the Capital City Food Co-op, as well. We choose to sell on the local level only, limiting the need for shipping and driving long distances.

We are a small operation with about 25 cows and total herd of around 70 head. The cows and baby calves graze on 132 acres of partially wooded land, and the slaughter calves graze on another farm of about 165 acres of partially wooded land.

Belgian Blue beef is very lean with low cholesterol and fat content, but it has a high moisture content and fine, tender muscle fibers. As an added benefit, the cattle are grass fed, without the use of any growth hormones, steroids or preventative antibiotics. Our cattle are raised as naturally as possible, grazing on rolling hills of pasture in spring, summer and fall and munching on hay, with minimal grain supplement, during the winter months.

We have hosted several homeschool groups and a college class at our farms. We always welcome you to visit and encourage you to buy our healthy beef!