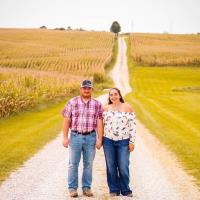 Buckler Farms
Contact: Nate & Emily Buckler
Address: 499 Pleasureville Road Pleasureville , KY, 40057
Email Address: Emily.beavers24@gmail.com
Phone: 614-940-0955
About Us
We're the Buckler's, a young farm couple in Shelby County, KY. We run a small farrow to finish hog operation and a large commercial sheep flock. We sell USDA certified Pork and Lamb and strive to provide high quality, yet cost effective meat that is high in flavor.

Our hogs are fed a Non-GMO diet consisting of corn and soybeans grown on our farm. The hogs farrow and live in large open pens with access to the outdoor. Our pork is sold by the cut and by the whole, half, and quarter. We keep pork stocked year round and always have a consistent, fresh, and flavorful product. Our sheep are traditional wool sheep that are grass- fed and Non-GMO corn finished.We also sell our lamb by the cut and whole and half. Both our hogs and sheep are ethically raised with no hormones or antibiotics.

In addition to our meat, we also began making 100% wool dryer balls from our sheeps wool and have naturally made chapstick and hand salve made from the Lanolin in the wool.
Practices
No hormones or antibiotics
Non-GMO
Pasture Raised