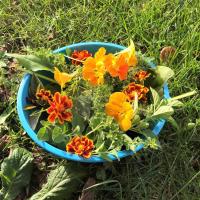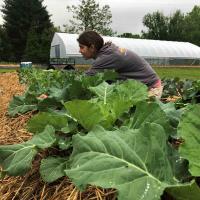 Dandelion Ridge Farm
Address: P.O. Box 1773 Versailles, KY, 40383
Email Address: abbie@dandelionridgefarmky.com
Phone: 215-264-3396
About Us
Dandelion Ridge Farm is a small, thoughtfully operated herb and vegetable farm located in Versailles, Kentucky. We are passionate about growing, cooking, and enjoying food that is delicious and nourishing, and that feeds the local ecosystem as well as our community. We are continually amazed at the abundance we produce on our little patch of ground!

Dandelion Ridge Farm offers fresh-cut herbs ranging from basil and thyme to lemon balm, chocolate mint, and epazote, as well as edible flowers to make your dish as gorgeous as it is delicious! We grow intensely flavorful vegetables such as several colors of onions, tart tomatillos, crisp celery, succulent baby ginger, and decadent candy roaster winter squash. We also offer canned sauces, chutneys, salsas and preserves made from our produce and carefully seasoned with our fresh herbs or spice blends from our friends Zelda & Bramble Superlative Seasonings.

Incorporated in 2018, Dandelion Ridge Farm is owned and operated by Abbie Rogers, assisted by her partner, Chef Kevin Archer of Zelda & Bramble Superlative Seasonings. We couldn't be more humbled by what our earth can do, or more proud to offer it to you.
Practices
We use sustainable & intensive methods for building our soil, work with conservation in mind, and are constantly learning. We are starting an organic transition plan to be able to certify our produce as organic.